LASERPLAST
DR. VALERIO FABIO PEDRELLI
True beauty lies in the beholder's eyes
Born in Milan on 08 May 1982, dr. Valerio Fabio Pedrelli graduated in July 2001 from the Scientific high School "Istituto Salesiano Don Bosco" in Milan. In October 2008 he graduated from the University of Milan, presenting an experimental thesis in Dermatology entitled "Chronic Urticaria: diagnostic-therapeutic process on 250 patients".
Fully qualified in the medical profession, from March 2009 to March 2014 he was attending the dermatological clinic of the Galeazzi Hospital of Milan with the aim to get the equated title in dermatology. During these years he also worked as an interdivisional medical guard at the Galeazzi Hospital, as a volunteer doctor in Zanzibar, and as a DCO (Official Doping Controller). In 2011 he finished Masters in Aesthetic Medicine at the University of Siena and in 2013, he was attending the Postgraduate Course in Laser surgery at the University of Genoa.
In 2011 dr. Valerio Fabio Pedrelli started his laser activity that was increasing day by day. His private professional practice, which had begun parallel to his hospital practice, then became his exclusive activity from 2014 onwards. From 2014 he has begun his collaboration with Dr. Matteo Tretti Clementoni at the clinic Skin House, and in 2017 he became a member of the Laserplast.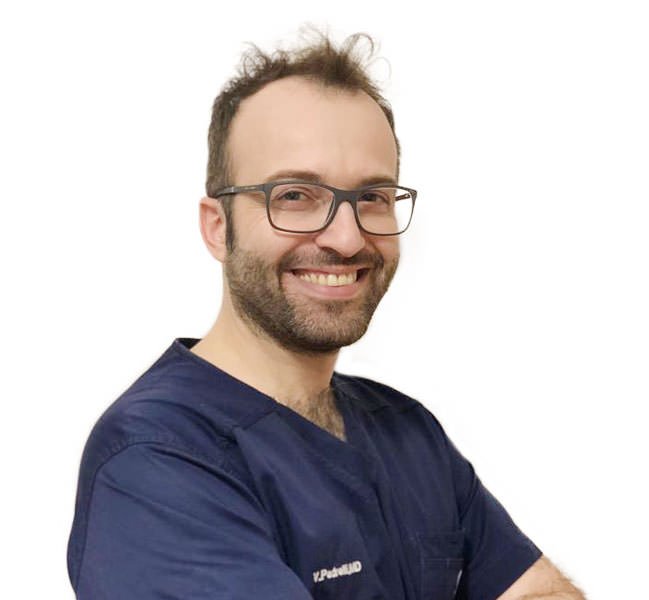 2014-2016: lecturer on the Masters in Podiatric Dermatology at the University of Milan
2017: lecturer on the Masters in Aesthetic Medicine at the University of Parma
Memberships of Scientific Societies
ESLD
European Society for Laser Dermatology
A.I.T.E.B.
Associazione Italiana Terapia Estetica Botulino
FMSI
Federazione Medico Sportiva Italiana
ESTP
European Society of Tatoo and Pigment Research
GILD – FTP
Gruppo Italiano Laser Dermatologia
IMCAS
Aesthetic Surgery & Cosmetic Dermatology